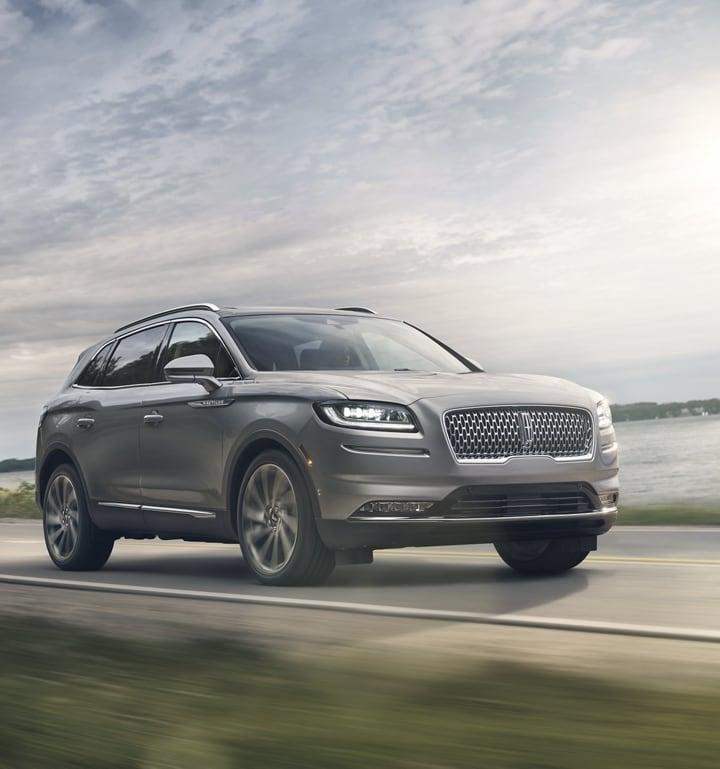 Lincoln's trademark luxury in a midsize package is nothing but the best. It's what you need. What you can trust. More than a car, the Nautilus gives you comfort. It gives you convenience. And it gives you the assurance that not only is it the luxury you crave, it's the quality you deserve.
Think Comfort, Convenience, Assurance
Comfort -- maybe it's the temptation of this 2021 work of art on wheels, with its reimagined cabin and front end adjustments -- treasures just waiting to be discovered.
Convenience -- maybe it's the perfect size and has the right features for your lifestyle.
Assurance -- maybe it's the confidence of dependability.
Satisfaction -- maybe it's the instant smile or the way your eyes brighten when you slide behind the wheel.
Think Like a Leader.
You want to be taken seriously. You want credibility.
You want your team to take direction. And you should expect nothing less.
The same goes for your car. Your best choice is within reach. There is no settling. No compromise.
From the moment you set eyes on our midsize 2021 Lincoln Nautilus, you know it's the one. It's the spa treatment of luxury vehicles, and it's all about you.
As tempting as a chocolate sundae dripping with fudge, whipped cream, and a cherry - you can't look away.
Inviting and alluring, it fills you up with details like the newly redesigned 13.2-inch touchscreen in the dashboard. No more squinting - it's the size of any respectable computer screen right at your fingertips.
Add to that the Sync 4 technology which has everyone buzzing.
It's not just for techies. This app works with your cellphone to communicate with your car. No more being loaded down with gear while trying to unlock your door or pop open your trunk. This incredible think tank has your back.
If you are like the rest of us, you live on your phone, which means you are constantly charging it. Well, thanks to the Lincoln Nautilus, there's no more worrying about running out of juice. This new revision includes a fast-charging dock, so when you reach your destination, you are ready for action.
Remember fumbling in your purse while frantically searching for your keys? Repeat after us: Thing. Of. The. Past. Let's not go back there, shall we? Not when you can use your phone to start the engine. Within seconds, your car is ready to roll.
Imagine this: you open the door and are greeted with the comfort of a leather cloud cradling you in heated seats, complete with lumbar support for those extended road trips.
There's even a heated steering wheel. No more death grip or chattering teeth.
And everyone's worst nightmare: the icy windows. Kiss them goodbye. The Lincoln Nautilus is equipped with lined windows that melt your winter blues away.
And the pampering just goes on and on.
Think Like A Parent.
Of course you want a pleasant ride - something that turns heads at the school drop-off - but your priority is the safety of your precious cargo.
The genius of Nautilus is with you. With blind spot alert and a 360-degree camera system, you are all set. No more backing out of the driveway wondering if the kids are too close. This isn't just an accessory; it is a necessity. We call that parental assurance.
And did we mention no more fighting in the backseats? We know what it is to focus on the road while there's a free-for-all happening in the back. That's why we've included a built-in home infotainment system.
Complete with wifi hotspot connectivity designed not to dwindle your bank account with user fees, this theater capability will keep the kids occupied. Sorry, but you'll have to bring the popcorn.
Buying a new car is exciting because it's an extension of you. It's your big entrance. It's your statement.
But like any major purchase, it can also be mind-boggling. The advertisements can leave you reeling. New features here, state-of-the-art technology there. Every car is The Best.
Sometimes it's all too much, having to sift through the endless words and pictures. The good news is, we have removed the guesswork and replaced it with a well-crafted machine. It's called the Lincoln Nautilus, and it's boasting roadworthy bragging rights.
Comfort, convenience, assurance. The car of your dreams.
At College Central, we know what you want, and we are here to make sure you get it.
Call off the search. We've got this. Give us a call at (403) 329-0333, or visit us at https//www.collegelincoln.ca and experience for yourself what it means to drive like a boss.
Winston Churchill wasn't kidding when he said, "I am easily satisfied with the very best."
The question is, are you?